Home
Talk

9
1,091pages on
this wiki
Welcome to FIFA Gaming Wiki,
The wiki for the FIFA (series) that anyone/anybody can edit, now we have 1,091 articles.
The FIFA Gaming Wiki, commonly referred to as the FIFA Wiki is the #1 source on the internet for information on the popular video game series produced by Electronic Arts, FIFA. The FIFA Gaming Wiki is a database/wiki providing important and key information on the video games in the FIFA series from FIFA 95 to the upcoming FIFA 15. Everyone is free to contribute in any way possible to the FIFA Gaming Wiki. If you are under the age of 13, please refrain from making a wikia account and using the FIFA Gaming Wiki because of COPPA regulations. Excessive vandalism will result in a infinite block, therefore do not vandalise/spam the wiki with useless content.
Latest Video Game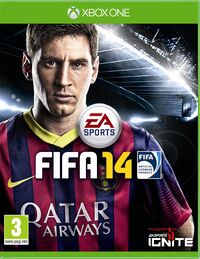 Fueled by EA SPORTS IGNITE, FIFA 14 will feel alive with players who think, move, and behave like world-class players, and dynamic living stadiums. Players have four times the decision making ability and feel alive with human-like reactions, anticipation, and instincts. With 10 times more animation depth and detail than previous consoles, FIFA 14 delivers the dynamic movements and biomechanics of the world's best athletes. Players are agile and athletic as they plant, pivot and cut, and explode out of each step. The increased fidelity has a game-changing effect on gameplay. Plus, for the first time ever, fans will feel the electricity of a living stadium as the emotions of new 3D crowds rise and fall around the stories on the pitch.


Create blog post
News
Hey guys, It's Happy65 here, and you may have seen me editing around here recently. Thanks to staff member Wagnike, I am now an administrator and am planning to make this wiki stable. I'd like to ask any active editors if they would the Rollback right, as there is currently lots of vandalism, and w…

Read more >

Congratulations to the FIFA Football Gaming wiki for surpassing 500 pages!

I've updated the Wiki's listing on Encyclopedia Gamia's Casual Portal with a Yellow Star to reflect this. Best of luck!

Read more >
See more >